Jurassic World: Dominion Dominates Fandom Wikis - The Loop
Play Sound
This article is a stub.
Please help The World of Otome Games is Tough for Mobs Wiki by expanding it.
The Saint is a sacred and respected position in the Holfort Kingdom. The saint is seen as a Christ-like figure by the temple and is best known for their mastery of healing magic. Supposedly, a saint is only born once in a generation.
Three Holy Items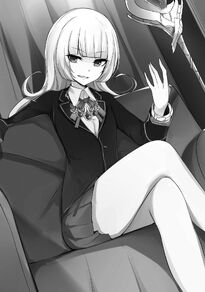 The Three Holy Items, the staff, the bracelet, and the necklace are special items that will only react when used by the saint and boost the saint's power.
However, it should be noted that Marie managed to trick the artifacts to react to her by perfecting her healing magic.











Known Saints
Unnamed Saint: The original Saint that saved the Holfort Kingdom long ago. She was supposedly Olivia's ancestor.
Olivia (In-Game): In the game, Olivia was revealed to be the saint during the game's climax.
Marie (False/Revoked): Despite not being the proper saint, Marie managed to trick the Holy items into recognizing her by mastering healing magic. She later admitted her lie and the title was revoked.