Jurassic World: Dominion Dominates Fandom Wikis - The Loop
Play Sound
This is the ninth volume of The World of Otome Game is Tough for Mobs light novel.[1][2]
Official Synopsis
A boy who was one of the targets of the third game has become a girl! The latest shocking chapter in the popular otome game-like otherworldly fantasy begins!
We approach the timeline of the third Otome game. Leon once again plans to bring the game's protagonist and her capture target together. However, his plan is already hanging by a thread. One of the capture target has undergone gender change and been reborn as a girl.
Furthermore, the main character is getting along with an escort who did not appear in the game; not mention a series of murders and a vicious consipracy lurking in the Holfort Royal Capital, things are slowly getting out of hand. Will Leon be able to muster himself and guide the game plot to a happy ending?
Chapters
Prologue
Chapter 1: The Second Prince
Chapter 2: Irregularity
Chapter 3: Turning Point
Chapter 4: The Investigation
Chapter 5: Holy Kingdom of Rachelle
Chapter 6: The Strongest Knight
Chapter 7: Suspicious Individuals
Chapter 8: The Bartfort Sisters
Chapter 9: Downfall of Zola's Family
Epilogue
Side Story: Livia's After School (JP Only)[3]
Side Story: Angie's After School (JP Only)[3]
Side Story: Noelle's After School (JP Only)[3]
Short Story: Marie Route The Seventh (JP Only)[3]
Summary
*Information will be added soon later.*
Adaptation Notes
*Information will be added soon later.*
Illustrations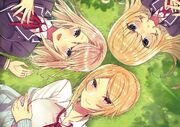 References