Jurassic World: Dominion Dominates Fandom Wikis - The Loop
Play Sound
This is the seventh volume of The World of Otome Game is Tough for Mobs light novel.[1][2]
Official Synopsis
I love you, too. Come with me, Noelle. THE END IS NIGH (AGAIN)
Leon thinks he's finally made a breakthrough in his relationship with Noelle, even if Marie's still accusing him of being a total incompetent. But all Leon's resolve may come to naught in the face of the platoon of problems rocketing toward him. He'll have to contend with everything from deteriorating parent-child relationships to a grudge-based coup d'etat to a full-blown AI uprising before he earns a happy ending for Noelle—and maybe even himself.
Chapters
Prologue
Chapter 1: Parent and Child
Chapter 2: Rachelle Holy Kingdom
Chapter 3: The Will of Republic
Chapter 4: Sisters
Chapter 5: The Traitor
Chapter 6: Revolution
Chapter 7: Sisters Quarrel
Chapter 8: Parent Child Bonds
Chapter 9: Mastermind
Chapter 10: The Most Dangerous Man
Chapter 11: Master
Chapter 12: Liar
Chapter 13: Reward
Epilogue
Side Story: Remembering the Promise of Ideal
Side Story: Leon & Louise (JP Only)[3]
Side Story: Marie & Louise (JP Only)[3]
Short Story: Marie Route The Fifth (JP Only)[3]
Crossover Short Story: MobuSeka x Villainous Lord (JP Only)[4]
Summary
*Information will be added soon later.*
Adaptation Notes
*Information will be added soon later.*
Illustrations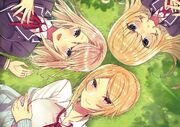 References