Jurassic World: Dominion Dominates Fandom Wikis - The Loop
Play Sound
This is the sixth volume of The World of Otome Game is Tough for Mobs light novel. The volume also comes with Limited Edition included Drama CD.[1][2][3][4]
Official Synopsis
Main
THE ULTIMATE SACRIFICE
Leon may have saved Noelle from a life in chains, but her future is far from certain. Bound as she is to the Sacred Tree Sapling, she is a prize for every nation in the world. Worse, Leon's fiancées disagree over her fate: does Noelle have a responsibility to serve a nation, or should she be free to choose how she lives her life? Meanwhile, Noelle's own villainess, Louise, faces the same dire question. It seems the Sacred Tree has demanded a sacrifice in exchange for continuing to protect the Republic—and it wants Louise. It's up to Leon to intervene before all the women in his life succumb to the dark fates the otome game demands.
Drama CD
Thinking of giving Angie and Livia a gift, Leon consults with Marie and 5 Idiots about what's going on in his blood. What advice will they give, since they are clearly the wrong people to choose!
[Cast Information]
Leon / Yusuke Kobayashi
Luxion / Yusuke Shirai
Olivia / Yumiri Hanamori
Angelica / Yurika Kubo
Marie / Atsumi Tanesaki
Julius / Ryota Aisaka
Jilk / Tachibana Ryumaru
Brad / Kodai Sakai
Greg / Tatsuya Fujii
Chris / Shomaru Saza (Google Translate)
Chapters
Prologue
Chapter 1: Human Garbage
Chapter 2: Serge
Chapter 3: Siblings
Chapter 4: Our Promise That Day
Chapter 5: Human Sacrifice
Chapter 6: Ideal, the Supply Vessel
Chapter 7: The One Who Operates Behind the Scenes
Chapter 8: The Pirate Flag
Chapter 9: Love Interests vs. Love Interests
Chapter 10: Manipulator
Chapter 11: Little Leon
Chapter 12: The Truth About House Lespinasse
Epilogue
Side Story: Aaron-chan
Side Story: Marie & Noelle (JP Only)[5]
Side Story: Carla (JP Only)[5]
Short Story: Marie Route The Fourth (JP Only)[5]
Summary
*Information will be added soon later.*
Adaptation Notes
*Information will be added soon later.*
Illustrations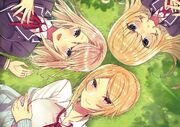 References