Jurassic World: Dominion Dominates Fandom Wikis - The Loop
Play Sound
This is the fifth volume of The World of Otome Game is Tough for Mobs light novel.[1][2]
Official Synopsis
GUARDIAN OF THE TREE—AND THE PRIESTESS
Against his wishes, Leon keeps getting pulled deeper and deeper into these otome game plotlines. Somehow, he's ended up with the Guardian Crest of the Sacred Tree, which is supposed to manifest on the hand of the chosen love interest. But Noelle, the new protagonist, couldn't possibly feel such things for him, right? He's going to have to figure it out fast, or Noelle might be swept away by men with far darker intentions for the Alzer Republic…and for Noelle herself.
Chapters
Prologue
Chapter 1: Two-Timing
Chapter 2: Temporary Return
Chapter 3: Idiot Brigade, Begone
Chapter 4: The Great House Barielle
Chapter 5: Oblivious
Chapter 6: Destined Partner
Chapter 7: Collar
Chapter 8: The Idiot Brigade Returns
Chapter 9: Former Crown Prince
Chapter 10: Villainess
Chapter 11: Bride Thief
Chapter 12: Everyday Life
Epilogue
Side Story: Greg (JP Only)[3]
Side Story: Brad (JP Only)[3]
Side Story: Chris (JP Only)[3]
Short Story: Marie Route The Third (JP Only)[3]
Summary
*Information will be added soon later.*
Adaptation Notes
*Information will be added soon later.*
Illustrations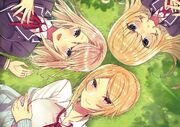 References