Jurassic World: Dominion Dominates Fandom Wikis - The Loop
Play Sound
This is the second volume of The World of Otome Game is Tough for Mobs light novel.[1][2][3][4]
Official Synopsis
Revolution waits for no man.
Leon doesn't want a leading role. Too bad for him. Between his new promotion and the attention of protagonist Livia and villainess Angie, no one will leave him alone–least of all the prince and his lordly gang. As Leon struggles for independence, tension grows with his allies. But soon, they'll have to band together to face the greatest danger imaginable, one that threatens to destabilize the game itself.
Chapters
Prologue
Chapter 1: The Queen
Chapter 2: Love Confession
Chapter 3: Airbike Race
Chapter 4: A Weakness Found
Chapter 5: Suppression of the Air Pirates
Chapter 6: Venting Anger
Chapter 7: Karma
Chapter 8: The Principality
Chapter 9: Laughter
Chapter 10: Friendship
Chapter 11: Black Knight
Chapter 12: Rematch
Epilogue
Interlude: Luxion's Report 2
Side Story: Olivia's Wish (JP Only)[5]
Side Story: Angelica's Wish (JP Only)[5]
Side Story: Marie Persevering (JP Only)[5]
Summary
*Information will be added soon later.*
Adaptation Notes
Light Novel Volume 2 concluded Chapter 15 until Chapter 38 of manga adaptation.
Illustrations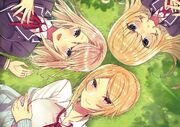 Notes
The illustration of Olivia & Angelica sleeping scene was cut out in Vietnamese version but instead use it as calendar.
References