Jurassic World: Dominion Dominates Fandom Wikis - The Loop
Play Sound
This is the tenth volume of The World of Otome Game is Tough for Mobs light novel.[1][2]
Official Synopsis
What's the problem? There's nothing but problems!
Angie felt that she was becoming a burden to Leon by being caught between her parents' home family, and she was considering stepping down on her own. Leon, too, felt that his presence was tying her down, and he decided that he might as well break off the engagement. He wonders if it would be better for her if he broke off the engagement.
Amidst the tension, Leon plans an adventurous trip in search for treasure. Marie, the prince, and even Jake get on board. The two sides end up in a war of attrition... (Google TL)
Chapters
*Chapter will be added soon later.*
Side Story: Mylene (JP Only)[3]
Side Story: Clarice's Love (JP Only)[4]
Side Story: Deirdre's Love (JP Only)[4]
Side Story: Unlaughable Trash (JP Only)[4]
Side Story: Foster Brother (JP Only)[4]
Short Story: Marie Route The Eighth (JP Only)[4]
Summary
*Information will be added soon later.*
Adaptation Notes
*Information will be added soon later.*
Illustrations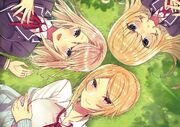 References