Jurassic World: Dominion Dominates Fandom Wikis - The Loop
Play Sound
This is the first volume of The World of Otome Game is Tough for Mobs light novel.[1][2][3][4]
Official Synopsis
A tongue-in-cheek jaunt through romance, giant robots, and dating sim jokes!
Office worker Leon is reincarnated into a particularly punishing dating sim video game, where women reign supreme and only beautiful men have a seat at the table. But Leon has a secret weapon: he remembers everything from his past life, which includes a complete playthrough of the very game in which he is now trapped. Watch Leon spark a revolution to change this new world in order to fulfill his ultimate desire…of living a quiet, easy life in the countryside!
Chapters
Prologue
Chapter 1: A Reason to Fight
Chapter 2: Lost Item
Chapter 3: Enrollment
Chapter 4: The Protagonist and the Villainess
Chapter 5: Noblemen's Etiquette
Chapter 6: The True Protagonist
Chapter 7: White Glove
Chapter 8: Duel
Chapter 9: A Personal Grudge
Chapter 10: Love
Chapter 11: The Fools
Epilogue
Bonus Chapter: Luxion's Report
Side Story: Leon's Academy Life (JP Only)[5]
Side Story: Olivia's Academy Life (JP Only)[5]
Side Story: Angelica's Academy Life (JP Only)[5]
Side Story: Marie's Academy Life (JP Only)[5]
Summary
*Information will be added soon later.*
Adaptation Notes
Light Novel \Volume 1 concluded Chapter 1 until Chapter 14 of manga adaptation.
Illustrations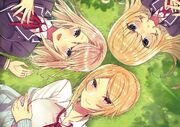 Notes
Chapter The Fools and Epilogue merged in official English translation.
The illustration of Olivia & Angelica bathing scene was cut out in Vietnamese version but instead use it as 2 bookmarks with author's signature imprinted.
References