Jurassic World: Dominion Dominates Fandom Wikis - The Loop
Play Sound
This article is a stub.
Please help The World of Otome Games is Tough for Mobs Wiki by expanding it.

Jilk Fia Marmoria (ジルク・フィル・マーモリア, Jiruku Firu Māmoria) is a member of The Prince's Entourage. He's also the foster brother of Julius.
Appearance
*Information will be added soon later.*
Personality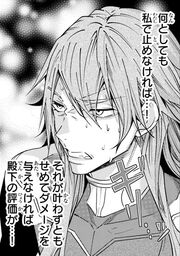 Jilk initially comes off as meek and controlled. He was the quiet one of the Prince's group.
In reality, he's desperate to maintain his standing with Julius and will go to great means to do so. He had no problem using illegal weapons during his duel with Leon or even making Jenna put a bomb in his armor.
After his defeat by Leon, Jilk, along with the other embers of the Prince's Entourage all seem to become more ignorant, often making stupid and short sighted decisions to gain Marie's favor.
Story Overview
Jilk makes his official appearance when he and Julius were taking a walk in the academy's courtyard several weeks from the entrance ceremony with their followers and the female students accompanying them; the female students asking Julius when he was going to hold the tea ceremony and they all would like to participate in it. Angelica then came with her followers and approached Julius about the tea ceremony, asking if it was alright if they could attend it together. He rebuked Angelica for forcing her way into the conversation as this was the academy to which Angelica replied that the conversation around him was rather loud. Julius then noticing Marie, asked her to come over as he had something to talk with her. Julius then said as the other boys were also going to arrange tea ceremonies he doesn't want to hold a flashy one and was planning to only invite acquaintances so he wants Marie to attend his tea ceremony. Angelica objects to it as Julius was the crown prince, so a suitable tea ceremony should be held even it is not a flashy one but he doesn't listen to Angelica's objections at all. Julius then tells Angelica to stop as even if she was his fiance, they were at the academy and he was just a student, so she shouldn't interfere with his affairs that much. Angelica hearing this, excuses herself for the discourtesy she has shown, and glares at Marie before leaving with her followers following her.
Several weeks later Jilk with the rest of The Prince's Entourage and Marie went to a dungeon with Leon, Angelica, Olivia and followers of both the prince's entourage and Angelica's for a class lesson. When groups were being made to explore the dungeon, Angelica is against Marie being in the same group as Julius and an argument happens between them. While Leon and Olivia went as the vanguards, the prince's group and Angelica's are in the middle, with the former in front of the latter. The prince's group then encountered six giant ant monsters as they had come from a side road so the groups in the front had missed them. Angelica then shouted out to the two groups who were in the front and back of the prince's group to protect them. But Greg shouted them to move back while killing one, and the other four were handled by Chris, Brad and Jilk. The last one headed towards Julius while Angelica was shouting to protect him. Jilk then reprimanded Angelica telling her that Julius wasn't someone weak. Julius was able to defeat the ant and Marie went to him asking him if he was okay.
Julius and Jilk approached Marie one day, asking her if she doesn't have a personal servant. Marie replies that she doesn't as the financial condition of her house wasn't good. Jilk then said to let him and Julius shoulder the cost as Marie should be lonely without any personal servant with Marie thanking them for this.
During the End-of-Term Party, the Prince's Entourage fusses over Marie as she went to the party wearing her school uniform and everyone insisting on buying a dress for her. Near the end of the party, Angelica gets into a quarrel with Julius about Marie and in a fit of rage, she challenges Marie into a duel and Julius and his group decided to act as Marie's representatives with Marie's personal servant Kyle also telling that he would support her. But no one came forward as Angelica's representative. She was just steeling her will to fight against them when Leon came forward, declaring that he will act as Angelica's representative and then goes on to mock the group. Leon then asks Angelica's intention in initiating the duel. She tells him that she just wants Marie to stay away from Julius. Marie states that she wants the fighting to stop and after the conditions are set, Jilk states that the duel will be five one-on-one matches. Leon agrees before taunting the prince directly.
When the day of the duel arrived, Leon was able to easily defeat Brad, Greg and Chris. Jilk seeing this became worried and added more weapons to his armor to stop Leon. He also used Jenna to plant a bomb on Arroganz during the break before the match. When the battle begins, Jilk starts by creating a smokescreen before sniping Leon with armor piercing shells. Seeing as the shells were ineffective, Jilk detonates the bomb. The bomb also proves ineffective as Leon quickly flies up to his opponent and attacks him. Jilk claims that fighting the prince will result in Leon losing his titles, but Leon is happy as long as he has his freedom. Desperate, Jilk states that he'll do everything he can to hold Leon's family responsible. Unfortunately for him, Leon recorded his threat and then played it back for Jilk to hear, using it as blackmail material to keep Jilk away from his family. Leon then slams Jilk into the ground, heavily injuring him and knocking him unconscious.
During the summer vacation, the prince's entourage and Marie were asked to remain in the academy. Marie was shocked when the five of them were disowned from their houses and their engagements broken. She then asks if it was because they had lost the duel. They then told her they all had requested their engagements to be called off. Both their families and fiancés had asked them to reconsider but after this they could finally be with Marie. The five of them, with Marie and Kyle, spent the rest of their summer vacation challenging the dungeons countless times, with Jilk's aim to earn money since he has been cut off from his house.
During the festival Jilk opened a cafe right besides Leon's with his friends, Marie and Kyle which led to little success for Leon as their cafe was quite the hit. When Julius brought Mylene from Leon's cafe, Jilk was present while she interrogated Julius, asking him to bring out Marie to which he refused until she accepted their relationship. She finally snapped, furious at the outfits they were wearing and the exorbitant prices in their menu and asking if he was sane leaving his claim to the throne and his fiancée for another girl.
Jilk was participating in the airbike race, being a favorite to win it, but he was injured by Clarice's followers during the race which made him unable to participate in the finals, even though he was able to win the qualifying race. He was taken to the the medical room, where Marie, Julius and Kyle came as well to check on him. Marie was crying as the price money for the airbike was a lot and she was depending on that for their daily expenses. Just then Clarice comes to mock Jilk and threatens him to participate in final race as well or else he would face even more severe consequences before leaving. Marie then tries to persuade Leon to take his place, saying that Angelica, being the head of the representatives of the first years and if she is not able to secure a substitute before the finals, her reputation was going to drop a lot. Leon eventually agrees, but only under the condition that Jilk owes him a favor afterwards. Leon is able to win the finals, even after facing the onslaught of the Clarice's followers and the students who had lost their money in the duel, with Leon amassing quite the sum with him betting on himself. Jilk to return the favor, meets with Clarice so she could finally get a proper closure.
After the festival ended, Jilk goes to report to Mylene, with Julius present as well there, informing the queen that Leon had set out to subdue the sky pirates with Brad and Greg with him as well. Mylene, hearing Leon's name became embarrassed as she remembered his confession to her which led to Julius seeing it as a chance to ask her to lend him a fleet for the reinforcements to subdue the pirates. Mylene hearing this came back to her senses rejecting Julius's offer as he did not have any experience leading the fleet and asked Jilk if the information was accurate. Jilk replied that he had already confirmed this and added as well that Duke Redgrave had also sent an airship after Partner and he suspected Earl Offrey's daughter was behind this somehow. Hearing this Mylene decided that no further reinforcements would be needed and it would lead to see the capabilities of Leon. Julius frustrated at not being able to go asks Jilk for his help to escape from the palace which lead to them thinking of how to escape. Jilk asked Julius how they were going to escape as everyone knew him which led to Julius deciding that if they had masks and cloaks people won't be able to recognize them and they will be able to escape successfully. They idiotically made a request for buying cloaks and masks which Mylene, on seeing it, was shocked as why they were making it so obvious that they were trying to escape and if they had even thought what they were going to after escaping. She decided to call them to discuss their future with them.
Julius supposedly had gone with Jilk to one of the other two islands during the school trip.[1]
Jilk and the other four were spending a lot of time in a storehouse having supposedly found a brilliant Armor designer who put together the usable parts of all five of their broken armors making a brand new strong armor to challenge Leon. Just when the second term was coming to an end, they decided to show the armor to Marie. Marie was shocked when she saw as she could not fathom how they got enough money to do this. They replied that due to recent accomplishments of Brad, Greg and Chris, they had gotten quite substantial rewards. Marie hearing that was relieved but it was only for a short while, as Jilk said that fearing that it would be less, they had taken some money from their group savings and the designer had done everything at quite a discount for them. Marie was shocked beyond words as she could not believe they spent so much on this. When she asked why they did not consult her about this matter, Julius replied they had done all this to surprise Marie and get their revenge on Leon. So they sent a challenge letter to Leon with him accepting it as well with the duel after the second term ceremony. All of them had decided that Greg should be the one to pilot the new armor as they believed he had the best chance at beating Leon. He gave a decent fight to Leon, when suddenly Leon shouts to Greg to get out off his armor as it was on the brink of exploding. Leon tried to convince Greg to exit but to no avail. Leaving himself with no choice Leon was forced to destroy the armor to save Greg which lead to him winning the duel.
Greg was unconscious till the next day after the duel. When he opened his eyes, Jilk and the others were present there, with him apologizing having lost the duel. Jilk replied that it was not his fault as they all had entrusted Greg to beat him but they had underestimated Leon and even with the modified armor they could not beat him. Julius then said there is always next time for them to beat him and they were going to try again and again until they beat him. Greg then asked where Marie as he saw she was not with them, with Brad replying that she was busy as she was going to the temple quite a lot these days after having found a bracelet in the capital's dungeon. Brad then asked Greg if he remembered Leon taking a necklace from the pirate leader whom he defeated as Marie was asking about it. Greg replied that he did remember something along those lines and the boys began pondering what was Marie doing and if the bracelet and necklace had any connection at all.
*Information will be added soon later.*
*Information will be added soon later.*
*Information will be added soon later.*
*Information will added soon later.*
*Information will added soon later.*
*Information will added soon later.*
*Information will added soon later.*
*Information will added soon later.*
Relationships
He judged Leon to be a threat after the latter defeated Chris, Brad and Greg. He believes he must do anything to kill/stop Leon from damaging Julius' reputation, and he did so by indirectly passing a bomb to Jenna. However, his plans failed as he tried to triggered the explosion using a specific magic, and noticed it was removed before the duel. He seemed to learned from his mistakes and his hatred for Leon slowly dwindled down through the later events.
*Information will be added soon later.*
*Information will be added soon later.*
*Information will be added soon later.*
*Information will be added soon later.*
*Information will be added soon later.*
*Information will be added soon later.*
*Information will be added soon later.*
Trivia
*Information will be added soon later.*
Gallery
References
↑

The World of Otome Games is Tough for Mobs, Manga Chapter 27