Jurassic World: Dominion Dominates Fandom Wikis - The Loop
Play Sound
This article is a stub.
Please help The World of Otome Games is Tough for Mobs Wiki by expanding it.

Arroganz (アロガンツ, Arogantsu) is a special armed unit created by Luxion for his master Leon Fou Bartfort.
Appearance ​​​
It is a heavy armor designed with old human's philosophy in mind. It has a huge backpack-like where gears and a jet turbine engine is located. Its head resemble a crusader knight helmet and its proportion is much larger than standard armed units.
Story Overview
Original Game Story: Otome Game
*Information will be added soon later.*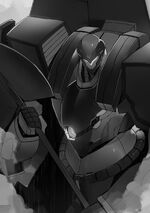 Leon used Arroganz, which was airdropped via a big container to casually humiliate The Prince's Entourage in combat.
Leon used Arroganz against both the Winged Shark sky pirate and the Principality's fleet. Its armor was bypassed at the torso by Vandel's Great Sword, first time Arroganz's defence was ever penetrated.
Leon temporarily had Arroganz confiscated from him during his imprisonment. Multiple nobles tried to operate it, but none of them was able to gain access. After Leon's release, he used it in the war against the principality. During his second battle against Vandel (who was using the Demonic armor's right arm) Arroganz was heavily damaged and combines with Leon's air bike, Schwert, restoring its engine power and finally putting down the Black Knight.
When Luxion seemingly joined Pierre, Pierre took ownership of Arroganz. Pierre outfitted the armor with spikes and gave it a paint job before using it to fight Leon. During the duel, Luxion manipulated Arroganz to not only avoid hurting Leon, but also make Leon appear superhuman by seemingly lifting and throwing the machine. Halfway through the battle, Luxion took full control and had Arroganz open fire at the audience using missile, pretending that it was Pierre's doing, before allowing the armor to be formally "defeated" by Leon. After the duel, Leon took the armor back.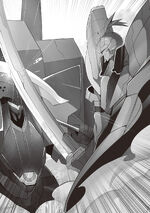 Leon used Arroganz when he crashed Noelle and Loic's wedding. He then proceeded to use the armed unit to fight against the Barielle family's armors.
Leon and the Prince's Entourage surrounded Alzer's airship and infiltrated it afterwards to save Louise, who wants to sacrifice herself to be together with her deceased brother Leon Sara Rault.[1] Leon, trying to save Louise, fought against the demonic suit (which was an artifact and part of the "Sacred Tree's flower") piloted by an emotional and partly brainwashed Louise.[2] Arroganz at first suffered heavy damage on its limb, which was replaced by new modules after combining with Schwert. This time Leon was emerged victorious and was able to separate Louise from the Demonic suit fragment and brought her back to Einhorn.[3]
Arroganz was piloted by Kyle (with the support of five other armed units of the Entourage and Loic) to rescue Yumeria from Ideal's grasp. After being confronted and one-sidedly beaten up by Serge's Gier, Kyle retreated back to Einhorn's deck and returned the armed unit to Leon. Subsequently, Leon unarmored Arroganz, installed extra missile launchers and combined Schwert with it to fight against Gier. Following a struggle for supremacy, Leon cut off an arm, a leg and destroyed Gier's shield and neutralised Serge. It was then Ideal activated the Demonic armor piece and merged the armor with Serge, controlling him like a puppet; the abomination was eventually defeated. Finally Leon used Arroganz to eliminate the Sacred Tree.
*Information will be added soon later.*
Abilities & Gears
Arroganz is a pseudo Lost Item "cheat level item" thus possessing unheard-of combat abilities:
Features
Arroganz's armor plating was crafted by Luxion, utilising culmination of old human's advancement. However, it is penetrable using Lost Item-grade technology; for example Vandel's Great Sword.[4] Furthermore, Arroganz has incredible fire resistance allowing it to endure (out-of-control) Angelica's massive whirlwind of fire.[5]
Immense Strength
High Engine Efficiency
Despite its gargantuan appearance, Arroganz easily outpace and outmaneuver any nimbler armed units thanks to its primary engine.[6] Additionally, Leon can opts to replace the nozzle module with Schwert which provide a significant boost to engine power as well as mobility in the air.[7]
Can be co-operated by either Luxion or a built-in AI, Arroganz has a massive edge over other new human armor (regardless of capability) due to its advanced command-and-control system allowing critical information such as situational awareness, electronic warfare, intel-denial and damage assessment. When the circumstance calls for it, Luxion can also seize total control of Arroganz remotely.[8]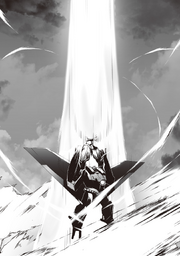 Arroganz's huge backpack-like carries a plethora of different weapons and accessory giving its pilot a wide range of option in combat.
Ability
Arroganz's special ability, and signature move. Preceded by deep analysis of opponent's armed units' structure; by immobilising the opponent's armor with one hand and placing the other on their armor's chest, Arroganz can send a burst of energy through the armor, causing it to lose power and completely dismantle/shatter, all without harming the pilot.[9]
During or before combat, Arroganz can combine with Schwert, gaining access to additional arsenal as well as horsepower. This exchange can be done on the fly after purging the former module's container.[7]
Armaments
Melee: Battleaxes, Scythe, Greatsword (attached to Schwert), "Legendary" Shovel
Ranged: Machine guns, Sniper rifle, Missile launchers, High-powered homing laser (attached to Schwert)[7][10]
Detachable: Armed autonomous drones, Schwert
Gallery
Trivia
The name Arroganz is the German equivalent of the word "Arrogance", which Luxion claimed to describe Leon well.
Arroganz is the most expensive armed unit in the cash shop, which Leon promptly purchased before he died.
Although it is possible to clear the war phase without purchasing any cash items, it requires a lot of skill, luck and time from the player in order to reach the ending of the game. Not wanting to waste any time and effort for his sister's sake, Leon purchased both Luxion and Arroganz from the cash shop, making the game a breeze and managed to reach 100% completion rate after investing two days without sleeping. However, this comes at the cost of Leon's life as he died soon after.[11]
References